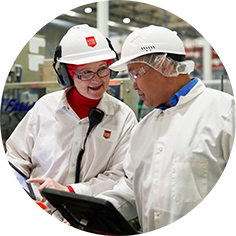 Everything at Masters Gallery Foods starts with our passionate team. Our people are the foundation for our commitment to quality, our safe work environment and our ability to exceed customer expectations.
Our Mission
Corporate Responsibility
Inclusion
Career Development
Fun at Work
Benefits
MGF Gives Back
Flextime
Our Mission…To be the customer's choice for premier cheese products by providing innovative solutions and exceptional customer service built on the highest standard of quality and integrity.
Our Vision…We are a family company dedicated to mastering the cheese business and enhancing the lives of our employees, partners and communities.
We are a company built on...
Passion: A legacy of excellence driven by our enthusiasm for cheese.
Integrity: Lasting relationships built on respect, honesty and trust.
People: Dedicated employees empowered to be the best version of themselves.
Quality: World-class products customers rely on.
Service: Customer confidence earned every day.
Safety: An uncompromising commitment to best practices.
We work diligently to integrate social responsibility into all of our business operations. As a responsible corporate citizen, we lead by example and serve as a model for others in our community.
believes it's the responsibility of every employee to uphold the company's vision, mission and values
fully complies with all Federal and State employment laws
is an Equal Opportunity and Affirmative Action Employer
Masters Gallery Foods actively involves employees' ideas, knowledge, perspectives and individual styles to maximize business success.
has a published process for employees to ask questions, give feedback or voice concerns without negative consequences
has a published process for employees to offer suggestions or innovations
rewards employees for cost saving suggestions that have proven to save the company money
Employee training and development programs represent a large part of corporate expenditures. It's part of how we invest back into our most important resource: OUR PEOPLE.
provides training and development programs that are available to all employees
offers a formal training program for cheese know-how called "Cheese University" which is available to all employees
promotes from within whenever relevant
Masters Gallery Foods understands and appreciates the need to have fun and to enjoy where you work! Numerous fun activities are held throughout the year to boost morale, celebrate accomplishments and prepare for the holidays.
gives office employees the option to listen to their personal music choices (headphones, radio, CDs)
provides XM Radio for the plant and office employee with a rotating music schedule
follows a "dress for your day" dress code for everyone in the office
offers summer hours to eligible employees
schedules numerous food days and/or competitions: potlucks, ugly sweater contests, Halloween costumes, chili cook-off, taco Fridays, etc.
Full-time employees receive a long list of benefits. Masters Gallery Foods also offers full-time health care benefits to part-time or flextime employees if they work 30 hours or more per week. Employees also have FREE access to The Center for Health and Wellness, a company-funded healthcare facility that serves as your first line of treatment for minor injuries and illnesses and overall health.
offers benefits to all full-time employees:
health and Rx insurance
dental insurance
vision insurance
short-term disability
long-term disability
flexible Spending Accounts
401(k) with company match
life insurance
voluntary life insurance for employee's dependents
business travel insurance
voluntary critical illness and accident plans including $100 wellness benefits
Employee Assistance Program
identity theft and travel assistance coverage
offers many other incentives/incentive programs:
annual monetary bonus program available for all employees based on company performance
tuition reimbursement
vacation savings club for discounted travel
subsidized fitness club membership
subsidized fitness or weight-loss coaching programs
company product discounts for employees
discounts for other services and products for employees
AAA travel assistance and discount program
DELL computer purchase plan
cellular phone discount programs
Fast Park, discounted airport parking
YMCA center discount
personal finance assistance coaching
recognition of a new family addition (baby gift too!)
flu shot clinic
company-sponsored rec teams and social events
Government Required Benefits Disclosure: Effective 01/01/2023
Masters Gallery and its employees are committed to giving back to the communities in which they live in. This give-back mentality is built into our culture to ensure charitable giving is part of everyday life.
is proof positive that individuals can make a difference.
MGF Gives Back Annual Campaign
employees select three on-profit organizations to partner with for the year; the United Way is included as a fourth organization
employees who choose to do so elect their contribution for the year (taken through payroll deduction)
Masters matches all donations
volunteer opportunities and drives are organized centered around the four organizations throughout the year
"Reward Your Purpose" Program
employees take on leadership roles and are encouraged to volunteer throughout the community
for every five hours of volunteer service at the charity of their choice, Masters will donate $100 to that charity on the employee's behalf (up to $200 per employee annually)
Supported Drives and Activities – Beyond our annual campaign organizations, many other events and drives are held throughout the year.
bell ringing for the Salvation Army
pop tab collections for the Ronald McDonald House
Toys for Tots holiday toy drive
disaster relief collections
fundraisers for employees (or their family member) that may be going through health issues are have faced a crisis of their own
and so much more!
Charitable Company Donations
employees and outside organizations often reach out to Masters for donations or support for various causes
Masters supports more than 200 organizations or events every year, either financially or through a cheese donation
We understand that life can conflict with what you need to accomplish at work. We try to help you maintain a work/life balance through a variety of flextime options.
offers flexible scheduling options to hourly office and salaried employees; on a case-by-case basis
informs plant employees if they will need to work overtime two to three days in advance
offers non-traditional work arrangements for employees, including seasonal work, summer flextime, paid internships and youth apprenticeships